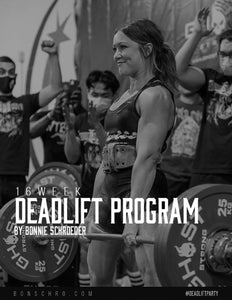 Are you ready to be a deadlift champion?
This program will have you busting through deadlift plateaus and hitting new maxes in just 16 weeks!
This progressive program includes two percentage based deadlift sessions a week, along with comprehensive accessory work that will directly transfer to your deadlift gains.
Run the program solo or alongside a current program and feel free to repeat it as many times as you want.
Get ready to deadlift big and GRIP N RIP!
Important: 5 download limit. Make sure to save the program to your phone, tablet, or computer!