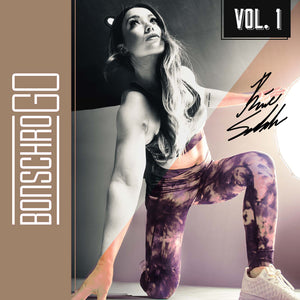 *THIS IS NOT BONSCHRO-GO FOR TRAINHEROIC. THIS WILL GIVE YOU ACCESS TO BONSCHRO-GO ON BONSCHRO.COM. IF YOU WANT TO USE BONSCHRO-GO ON TRAINHEROIC, YOU MUST PURCHASE THROUGH THE TRAINHEROIC WEBSITE OR APP. READ ABOUT THE DIFFERENCE HERE.

-BonSchro-GO workouts are my EXACT training sessions. I called this style of training "Powerbuilding" because they all include main barbell movements but also have a heavy emphasis on isolated accessory movements to add an aesthetic element to the program. Most days also include core work.

-Three days will be shown at a time on the site and new workouts will be uploaded daily!

OR
- Following BonSchro-GO on TrainHeroic offers several different training perks. The app lets you track your weights, progress, and allows you to communicate in a group chat with your teammate and me! It's the same great training program but with the extra features and benefits that the TrainHeroic app offers!
IMPORTANT: You need to create an account to access your subscription content. There could be a delay with the automated system between purchasing and being able to access your account. After an hour or more, if you still do not have access, please contact support so we can resolve the issue.