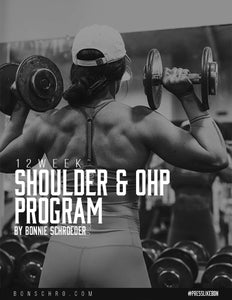 Buckle up and get ready to train your way to the shoulder size and shape you've always wanted!
Not only will this program have you crushing your aesthetic goals, but it will also increase your overhead pressing power like never before!
This progressive program includes shoulder training twice a week with barbell work as well as accessory exercises that will directly impact your strength and aesthetic goals.
Equipment needed: Barbell, plates, dumbbell variety, and bands
All dumbbell work always should be performed as heavy as you can correctly execute the reps.
Remember once you buy the program its yours forever so feel free to repeat as many times as you want!
Important: 5 download limit. Make sure to save the program to your phone, tablet, or computer!